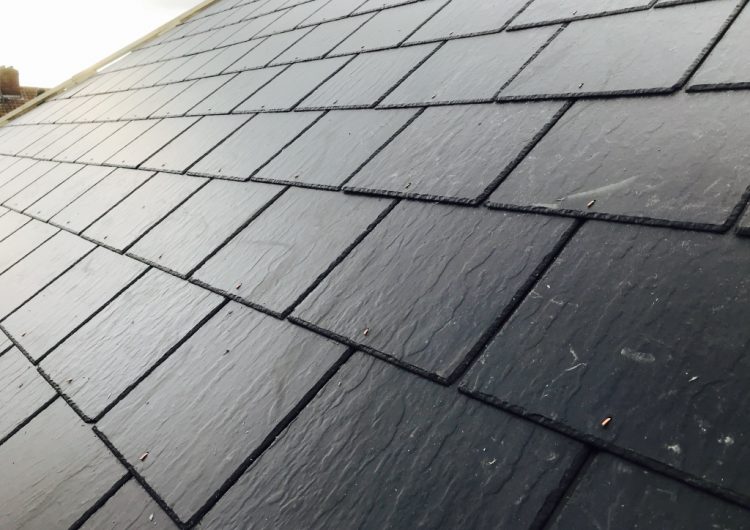 Slate roofing has been used to tile roofs for centuries. It is aesthetically pleasing and an extremely practical material to have on your roof.
What is Slate?
Slate is a fine-grained metamorphic rock. Typically slate comes in various shades of gray ranging from light shades all the way up to dark. It is also possible for slate to come in red, black, brown and purple.
What are the Advantages of using Slate Roof Tiles?
You can often see slate tiles on the roofs of houses. There are various reasons why slate is used so frequently:
1) Slate is easy to cut into thin sheets
The composition of natural slate allows it to be cut and shaped into thin sheets. This is perfect fir a roofing tile.
2) Slate has a Beautiful Appearance
Many homeowners choose slate due to its appearance. It is hard to replicate the beauty of slate as it is a natural stone. Since slate tiles are cut from sheets of natural slate, there is a great variance in terms of the thickness shape, size and colouring of slate tiles.
3) Slate Roofing lasts for a Longtime and is Durable
Slate roofing has a life span of up to a century. This durability performs very favourably when compared with other roofing systems which have an expected lifespan of 10 to 50 years.
This unbeatable longevity makes slate a great investment and cost effective when you factor in the cost per year of service the roof provides.
4) Slate is Fire-Resistant
Slate roofing is completely fire resistant. This provides those with a slate roof huge peace of mind.
5) Slate is Eco-Friendly
Slate is a natural material. This means it is environmentally friendly. It also lasts for up to a century if installed by proficient roofing contractors. This means there is less waste generated as the need to re-roof your property will occur far less regularly than if you used a material which only had 10-year lifespan. By getting a slate roof installed once properly by an expert roofing company you will be saving yourself money in the long term and helping the environment.
What are the Disadvantages of Slate Roofing?
Although slate has some amazing benefits. Namely its longevity, appearance and durability. It does have some disadvantages which you should be aware of before choosing it as your roofing system.
1) Price
Slate roofing is expensive. Slate tiles are difficult to produce which is one of the reasons for them being more expensive than other roofing solutions. However, when you work out the cost per year of slate roofing the cost is not quite as high as it initially seems. And in fact, can represent better value than other roofing materials.
2) Fragility
Slate tiles can last up to a century and are both tough and weather resistant. However, they can be fragile. This is especially true if slate tiles are in the wrong hands. They are especially prone to cracking if mishandled. Also, if maintenance is needed it is vital it is carried out by a professional roofing contractor as walking over slate tiles can cause damage. By choosing a professional roofing contractor you will be eliminate the risk of any damage occurring.
3) Weight
Slate roofing is heavy. A square metre of slate tiles weights approximately 36kg. Because of this weight it is imperative you have the right structural support in place to prevent unwanted accidents and premature damage to your roofing system.
This makes is very important to get the right roofing contractor to install your slate roofing.
4) Installation
The quality of your slate roofing installation will determine how much value you get from your investment in slate roofing. It is important to choose fully qualified professional roofers to give you the best of finish for your roof. This will ensure you will have a beautiful, durable and long lasting roof.
We have listed installation as a drawback for slate roofing because without high quality roofers installing your slate roof tiles you can encounter real problems. Without correct installation, all slates great properties are hampered.
The delicate procedure of slate roofing needs to be done by a reputable roofing company with the appropriate skills and the provision of full guarantees in the event something goes wrong.
Slate Roofing Summary
Slate is unbeatable when it comes to longevity and aesthetics. But it must be installed by the appropriate professional roofing company for you to get value for money.
As we always tell our clients every roofing material has advantages and drawbacks. The long-term success of any roofing system comes down to three things, the use of high quality materials, installation by a skilled contractor and regular maintenance.
If you want to know more about slate roofing or any other roofing system please get in touch with us either by web form or calling us on 01483 475141.