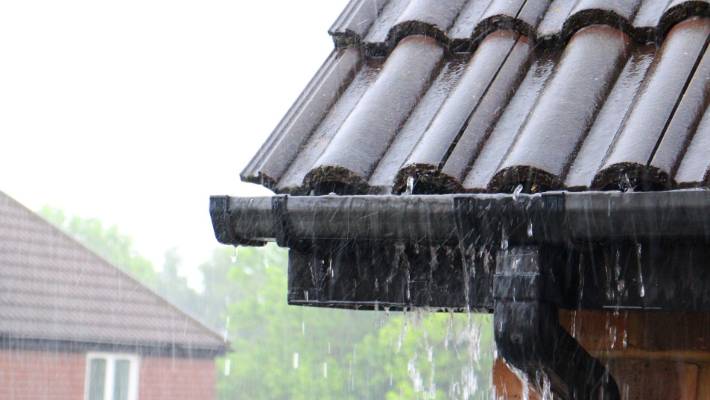 From time to time things can go wrong with your guttering and you will need your gutter repaired. Here are some common problems you can encounter with your gutters.
Overflowing Guttering
Overflowing guttering is easy to identify. It is exactly how it sounds water flowing over the top of your gutter. It will look like a waterfall coming over the top of your guttering when it rains heavily. This problem is most usually noticed by the noise created when the water overflows out of your gutter and hits the surface.
If you notice this problem the first thing you should do is check the guttering for any blockages as this may solve the problem. You should first check where the downpipes meet the gutter and check if there is no buildup of dirt, vegetation or perhaps an object blocking the water from draining away.
The next place to check is the guttering itself. Look for any moss, dirt or mortar build up which is preventing the water from draining away.
After you have followed the two steps above and the problem is solved you have nothing more to worry about. However, if it isn't it may be an indication your guttering pipes are blocked. These blockages can be caused by a build up of dirt.
If you suspect you have blocked guttering get in touch with an expert to fix this problem. If you are in the Guildford and Woking area we would be happy to help you.
However if your guttering is not blocked. It could be your guttering is not aligned correctly.
Poor Alignment of Guttering
If your guttering is holding water. Over 2.5 centimetres. The problem is likely caused by poor alignment of your guttering. Each bracket should have an extremely small fall. When the guttering was installed a constant fall should have been used to make sure the water simultaneously runs away and cleans itself. If the fall is not constant water can quickly build up and your gutter can start to overflow (possibly in multiple places).
Poor alignment also shortens the life span of your guttering. In most cases the only solution to a misalignment with guttering is to unclip the guttering and refit it with the correct alignment.
Gutter Walk
Plastic guttering is made to contract and expand with weather fluctuations. Problems with guttering can happen due to poor installation. For example, a piece of guttering has been cut to too short or a union hasn't been secured to a fascia. If a piece of guttering has been cut to short it will need to be replaced. However, problems like poor joint clip pressure, tight gutter brackets and unions not been secured to a fascia can be fixed and the guttering put back into position.
A Leaking Gutter Joint
One of the most common problems people encounter with their guttering is a leaking gutter joint. The correct term for a gutter joint is a gutter union. Joints on guttering should last from 5 years all the way up to 20 years depending upon the shape of the joints.
When problems with joints occur, it is better to replace them rather than repair as it will be cheaper in the long run. If you suspect your gutter joint needs replacing it is best to check the joint hasn't sagged and make sure it is clipped into the guttering properly. If either of these situations is applicable the joint may be able to be fixed simply rather than having to get a replacement gutter joint.
If you have any guttering problems or think you need a gutter repair expert. We are happy to help anybody in the Woking and Guildford area. Just get in touch or call us on 01483 475141.