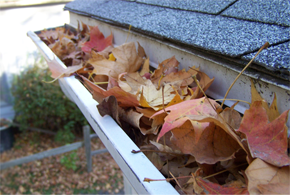 At Raynes Roofing we are often involved in gutter cleaning for both commercial and residential properties throughout Surrey.
For any property, it is essential to keep your guttering in working order to protect the rest of your property from the damage caused by blockages and leaks.
It is a good idea to regularly clean your guttering to clear the debris built up from leaves, dirt and other objects.
This makes sure any water which hits your roofing and runs into your gutters flows away in the correct manner and doesn't cause any expensive problems.
The Benefits of Regular Gutter Cleaning
• Reduces the risk of damage to your property and the repair costs associated with it.
• Maintains the performance of your guttering system
• Maximises the lifespan of your guttering
• Reduces the growth of mould
• Reduces the probability of leaks
If you think you need your gutter cleaning and are in the Woking or Guildford area Raynes Roofing would be delighted to help you. With over 45 years' experience we will be able to quickly diagnose your problem and advise you on the best way to fix your problem just get in touch today or call us on 01483 475141.